About Us
Niki's Party Place
is a family owned business established in 2009. It is a result of our parental quest to find the best ways to combine play, fun and therapy to influence our then three-year-old daughter's behavior in targeted direction and achieve progress in her range of motion and overall musculoskeletal development.
So far, we have found the best reward for our efforts
in the improved health of the hundreds of children, including our own children, using our facilities. Bouncing is fun, and also a hard workout for our youngsters, who spend a lot of time in front of TVs or computers and lack the dynamics of interactive play and physical activities. Therefore, we regard our facilities as the new gym for kids, where they can
EXERCISE WHILE BOUNCING, INTERACT,
and
HAVE FUN WITH FRIENDS!
With
Unique Bounce Parties
and
Various Events
held at Niki's, we bring even more smiles and laughter and make sure that your family have an unforgettable experience.
Niki's Party Place
is a proud member and supporter of Salt Therapy Association.
COME AND SHARE SOME FUN WITH US!
Location
in Central New York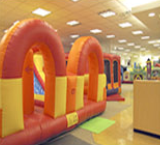 7380 Thompson Rd., North Syracuse NY 13212